Master Planned Community Projects
UrbanStar's vision expands beyond Calgary's city limits. We have a goal to create extraordinary communities that encompass distinctive homes, commercial hubs, educational facilities, and recreation; all in balance with the natural environment.
Glendale Mountain View Development Ltd.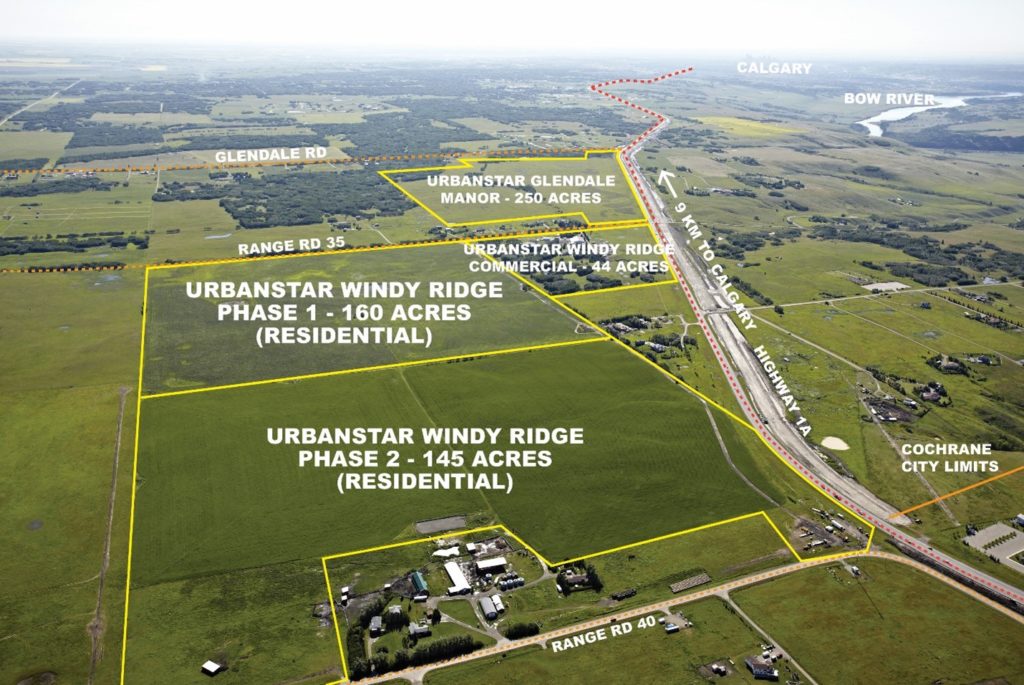 UrbanStar Glendale Mountain View Concept Plan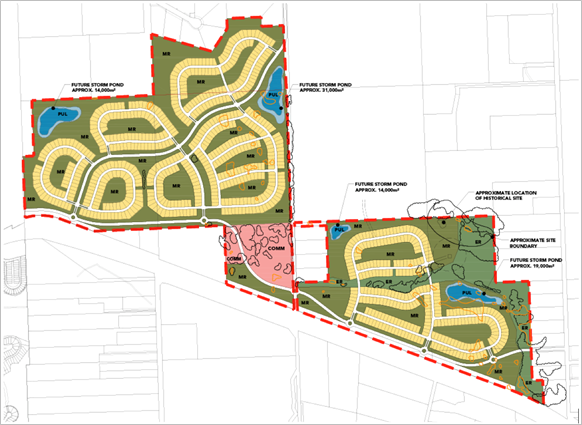 UrbanStar Glendale Mountain View is a proposed socially, economically, and environmentally sustainable community of 674 acres in the Glendale-Bearspaw area, abutting Cochrane and 25 minutes from downtown Calgary. This amenity rich development fully embodies the natural environment through an organic neighbourhood design that will maintain open space through interconnected pathways and parks. It will feature 1,352 single family homes, semi-detached houses and townhouses, along with a quaint commercial node of approximately 105,000 sq ft, a designated school area, and convenient transportation.
On December 2017, the UrbanStar Glendale Mountain View Concept Plan was accepted for evaluation and included in the Rocky View County proposed conceptual schemes list. You can view the UrbanStar Glendale Mountain View Concept Plan here, or find more information on the current status and phases of the project at http://www.usglendalemountainview.com.
Horse Creek Development and PH2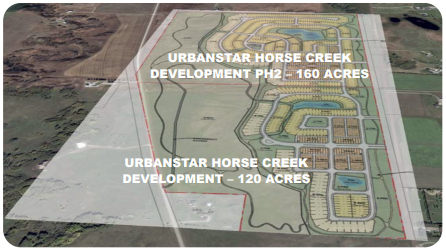 The site is generally bounded by Horse Creek Road to the west, Township Road 270 to the north, and Range Road 44 to the east. From a regional standpoint, the UrbanStar Horse Creek development site is situated advantageously between Cochrane and the Rocky Mountains, rendering it perfect for those who desire proximity to both city and nature.
The Horse Creek project is located west of approved developments in the Hamlet of Cochrane Lake. In addition, UrbanStar has acquired an additional +/- 160 acres within the Cochrane North ASP that lies east of Highway 22 and has potential for residential and commercial land use. UrbanStar is well situated in this corridor to bring growth, employment, and development to the region.
UrbanStar will manage and own 440 acres within the Cochrane North ASP making it the largest landholder in this area.
LOTTING CONCEPT RE-DESIGNATION TO 949 POTENTIAL UNITS
Previously prepared lotting concepts, which adhere to the current ASP policy, resulted in 313 lots of equivalent size and scale over 280 acres.
The updated site plan includes a diversity and range of housing types and lot sizes to a total of 949 over the same 280 acres. This reflects a gross UPA (Units Per Acre) of 3.3. This is much more efficient use of land and utilizes the exact same footprint as the previous design. The variety of lots and available housing types allows for greater choice for the consumer, allowing for flexible entry points for price and this will allow for greater absorption by the market overtime.
As a result of the planning efforts of the UrbanStar Development Team the new concept plan is a net 636 additional units to the original concept.
Net Difference
Original Concept Plan                         313 Units
Re-designation of Concept Plan       949 Units
Net Difference                                       636 Units +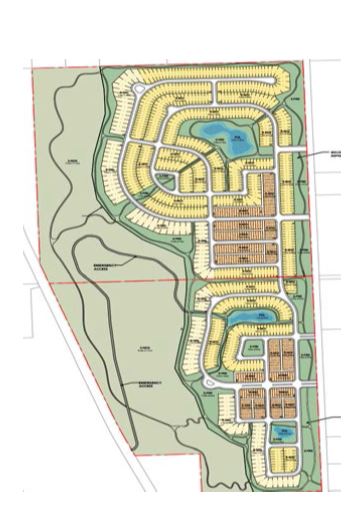 This website may include certain "forward-looking statements". All statements of historical fact, included herein are forward-looking statements, including, without limitation, future plans and objectives of the Corporation, statements concerning the anticipated regulatory approval of the Corporations land estimates for market growth, anticipated expenditures, the need for additional funds, and other events and circumstances described in terms of the Corporations expectations or intentions. Use of the words "anticipates", "believes", "estimates", "expects", intends", "plans", "should", "potential", "proposed" and similar expressions herein are intended to identify forward looking-statements. These statements reflect the current internal projections, expectations or beliefs of the Corporation and are based on current information available to the Corporation. An investment in the Corporation is speculative due to the nature of the Corporations business. Forward-looking statements are subject to known and unknown risks, uncertainties, and assumptions, including without limitation, changes in general economic conditions, competition, the Corporations success in marketing its products and addressing regulatory issues and other factors both in and outside the control of the Corporation. Although management of the Corporation believes expectations that represented in such statements are reasonable, there can be no assurance that such statements will prove to be accurate, and actual results and future events could differ materially from those anticipated in such events. There is no assurance the Corporation will be able to successfully raise the capital required, complete each of the growth initiatives described or obtain regulatory approval for its land asset. Investors must rely upon the ability, expertise, judgement, discretion, integrity, and good faith of the management of the Corporation.